1 February 2018
Newsletter Articles
WELCOME TO THE 2018 SCHOOL YEAR
Welcome to a new year at Eden Hills Primary School, with a very special welcome to our new families, and an extended welcome back to those who have re-joined us after some time away. We are really excited for the learning year ahead.
We will be starting with 10 classes across the school, with Japanese, PE, and the Arts as specialist subjects. We have all of our staff in place and we welcome Michelle Morrison, Elin Gubbin and Maya Miller who are new teachers to Eden Hills. Kat Doupis, Jade Tobar and Jackie Wood return as contract teachers for 2018 and join our permanent staff.
Congratulations to Kellie Bowden on being appointed to the teaching and learning coordinator position for 2018. Kellie will be part of our leadership team and will work in her coordinator role predominantly on Thursdays. Maya Miller will be teaching room 6 on those days. Maya will also be teaching PE during the first term.
Ainslie will be managing the SRC at both the school and executive level and the SRC will be established by week 3 of the first term. Josie will be releasing Ainslie one lesson a week to support this.
Josie will also release Kellie once a week for leadership duties and she will also be managing the choir and recorder this year, but there will be no Festival Choir in 2018. This will be reintroduced in 2019.
Room 1 - Marilla Bryce, Kelly Gunn (Yr 3 / 4)
Room 2 - Julie Howie, Kelly Gunn (Yr 3 / 4)
Room 3 - Michelle Morrison (Yr R / 1)
Room 4 - Angela Hills, Jackie Wood (Yr R / 1)
Room 5 - Edie Woodger, Jade Tobar (Yr 2 / 3)
Room 6 - Kellie Bowden, Maya Miller (Yr 1 / 2)
Room 7 - Kat Doupis (Yr 5 / 6)
Room 8 - Ainslie McGrath (Yr 5 / 6)
Room 11 - Stew Nancarrow (Yr 6 / 7)
Room 12 - Craig Garrard (Yr 6 / 7)
PE - Maya Miller
Arts (Music, Dance, Drama) - Jackie Wood, Josie Whitehead
Japanese - Elin Gubbin
Principal - Jason Munro
Deputy Principal - Andrew Dowling
SSO/Support Staff - Heather Ellis (Business Manager), Annie Temby (SWD Manager, WHS and Student Support), Rebecca Stevens (Front Office, Finance, Student Support), Jo McIntyre (Resource Centre), Tracy Pengelley (Intervention, Student Support), Perdita Hope (Intervention, Student Support), Trenna Albrecht (Intervention, Student Support), Leanne Herbert (Intervention, Student Support), Jo Skeates (Playgroup, Wellbeing, Events), Pamela Hansen (Wellbeing).
Grounds Staff - Neil Gloyn
OSHC Director - Diane Gloyn
Governing Council AGM
The Annual General Meeting for Eden Hills Primary School Governing Council will be held on 21st February at 7.00pm in the Resource Centre. We invite all parents to play an active part in the school and the Governing Council is a great way to be involved. We meet twice a term to discuss the broad direction of the school including policies, strategic direction and finance. If you would like to nominate for the Governing Council, we invite you to complete a nomination form and attend the AGM. The term for a position on the Governing Council is 2 years. If you are an existing Governing Council member and your 2 year term is expiring, you must nominate to be considered for election. A reminder letter with nomination forms will be sent home before the AGM.
Schoolzine
In the past we have accessed different forms of communication to inform our school community of events and information. We have consolidated all aspects of communication with a new school website established and maintained by Schoolzine.
Schoolzine is mobile friendly, accessible on all devices and provides seamless integration with the Eden Hills Primary School newsletter. It accesses online forms including absentee lodgement and a dynamic calendar including events RSVP.
Acquaintance Night
Acquaintance Night is in Week 3 on Tuesday 13th February. Class teachers will hold a 30 minute acquaintance session in their classrooms at the following times:
| | |
| --- | --- |
| Room 1 Marilla and 2 Julie | 6:30pm – 7:00pm |
| Room 3 Michelle, 4 Angela, 5 Edie/Jade and 6 Kellie | 6:00pm – 6:30pm |
| Room 7 Kat, 8 Ainslie, 11 Stew and 12 Craig | 7:00pm – 7:30pm |
The Acquaintance Night is a great way to hear about the structures and plans for the year and to connect with other parents.
Payment of Fees
The office is open 8:30am - 4:00pm each day for payment of fees. Pay your school fees from home! It's easy! Why not try our secure online payment system Bpoint. Go to the link below and follow the links.
http://www.edenhillps.sa.edu.au/
Preferably try Qkr by MasterCard. It can be downloaded for free from Apple's app store for iPhones (iPads should download the iPhone app) or from Google Play for Android phones and tablets.
After downloading the app and registering, simply select Eden Hills Primary School from 'Nearby Locations' on Qkr or type EHPSA after tapping the magnifying glass in the top right of the home screen of Qkr. The app will then always recognise you as part of the school making future payments even easier.
You can pay all your School fees, Aquatic fees, Camp fees, OSHC and Vacation Care payments right now using Qkr, so why not download it today and take a look at our school on Qkr!
Duty of Care of Students before 8:30am and after 3:30pm
Parents need to be aware that staff yard duty does not commence until 8:30am each morning and finishes at 3:30pm each afternoon. If your child needs to be at school outside these hours they must attend Out of School Hours Care. See OSHC staff for details and registration forms.
Bushfire Safety
Our Emergency Action Plan Policy is available on the school website (link below). Please take the time to familiarise yourself with it. Our school will only be closed on a day when the CFS indicates it is a day of catastrophic risk in the Mount Lofty Ranges area. Families are reminded that they should discuss their own bushfire action plan with their children.
http://www.edenhillps.sa.edu.au/
We also remind you to complete the Emergency Collection Authorisation form that was posted to all families. After an Emergency event, students will only be released to named authorised adults or if a written note is sent to school, on the day, naming a different adult. A phone call will not be accepted as authorisation. It is vital that all contact information is up to date.
Lunch Orders
Lunch Order days are MONDAY and FRIDAY
Our Lunch orders are prepared by Blackwood High School and ordered online using MunchMonitor. Below is a link that gives easy step by step instructions on setting up the online account.
Please make sure you have entered the correct school and class room number for your child in Munch Monitor when ordering school lunches.
Our school code is: EH followed by the class room number.
Please order from the Eden Hills Menu
| | |
| --- | --- |
| Marilla / Kelly G | Room 1 |
| Julie / Kelly G | Room 2 |
| Michelle | Room 3 |
| Angela | Room 4 |
| Edie / Jade | Room 5 |
| Kellie B | Room 6 |
| Kat | Room 7 |
| Ainslie | Room 8 |
| Stew | Room 11 |
| Craig | Room 12 |
Student Absences, SMS Messaging and Attendance Update
Parents are asked to notify the school via text on the following number 0427 016 460 or by using the Schoolzine App by 9:00am if your child is going to be absent or arrive after 9:00am.
Please note we are no longer using skoolbag.
We are continuing to use the electronic roll marking system and if your child is marked as an unexplained absence you will automatically receive a text from us. If your child is late or leaving early you must sign in or out in the Front Office.
School Photos
School photos are scheduled for Tuesday 20th February. Envelopes will be sent home with your child prior to this day. Family envelopes will be available from the front office. The envelopes need to be sent to school with your children on the day of the photos.
Student Medication
Please remember that any medication sent to school for children to take throughout the day, even on a short term basis, must be accompanied by a medication form that is obtained from the doctor. Class teachers and the office staff are not allowed to administer any medication without written instruction from the doctor. Also, all medication should be taken to the office at the beginning of the day for safe storage.
Resource Centre
Welcome to another wonderful year of reading! It has been lovely to see so many of you borrowing books already.
We are 'open for business' before school (from 8.30am), after school (until 3.30pm) and at lunchtimes. In addition, each class has a 'browsing and borrowing' lesson every week.
Parents are very welcome to join as borrowers to access books for younger siblings. We also have a small Parent Library. Pop down to the Resource Centre and we will sign you up!
Eden Hills Primary School has a new app!
SZapp is a great way to keep up to date with our latest news and information. Using SZapp will give you easy access to information such as:
Newsletters on the go
Latest News & Reminders
Calendar
Policies and Documents
When subscribing to Eden Hills Primary School please make sure that you add yourself to any of the applicable groups. This will ensure that you are receiving all relevant notifications.
SZapp
Learn how to install the app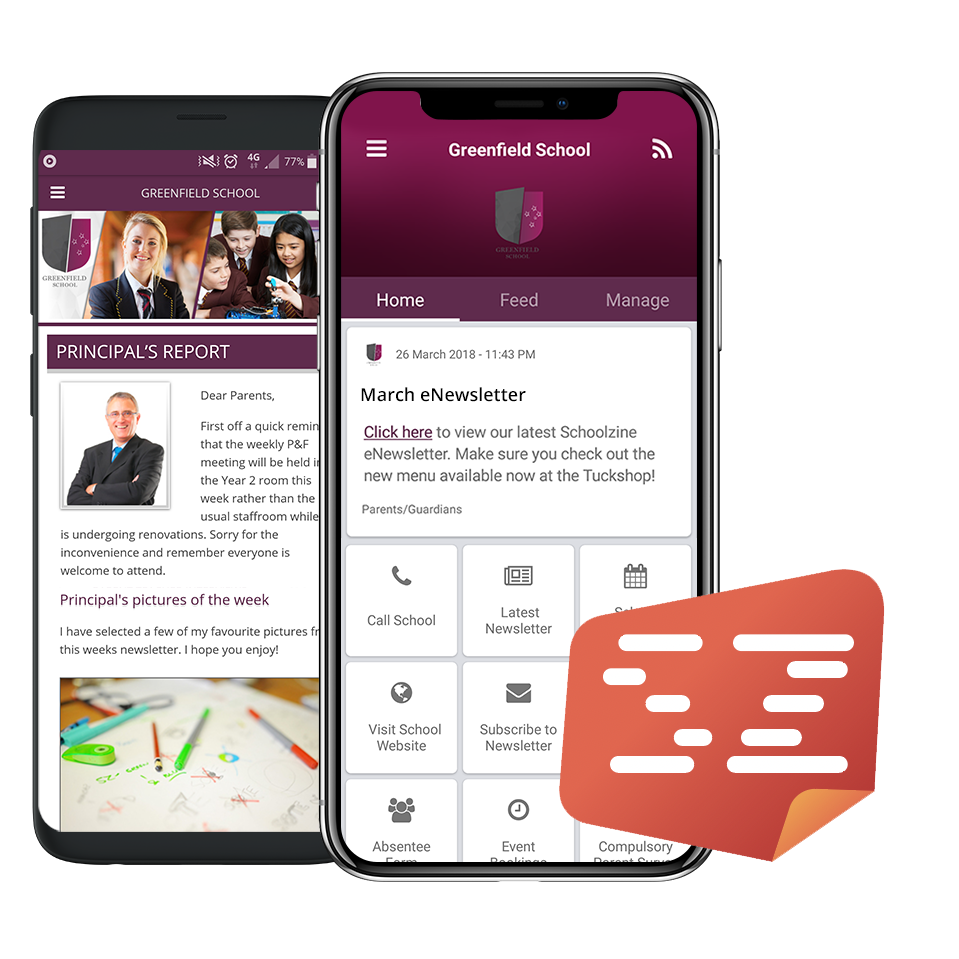 Apple Devices:
On your device, open the App Store.
Search the App Store for SZapp.
Download and install SZapp.
Android Devices:
On your device, open the Play Store.
Search the Play Store for SZapp.
Download and install SZapp.
Find your School
Select your school's region.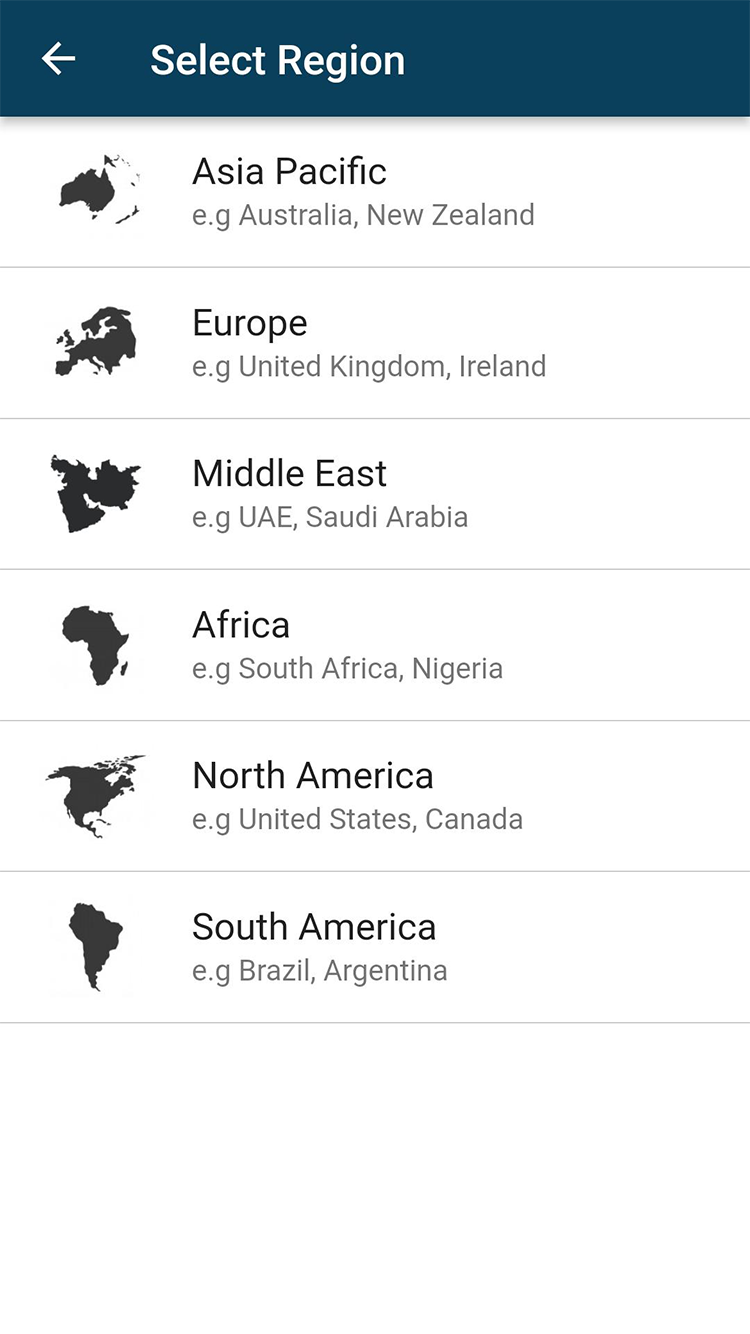 Search for and select your school.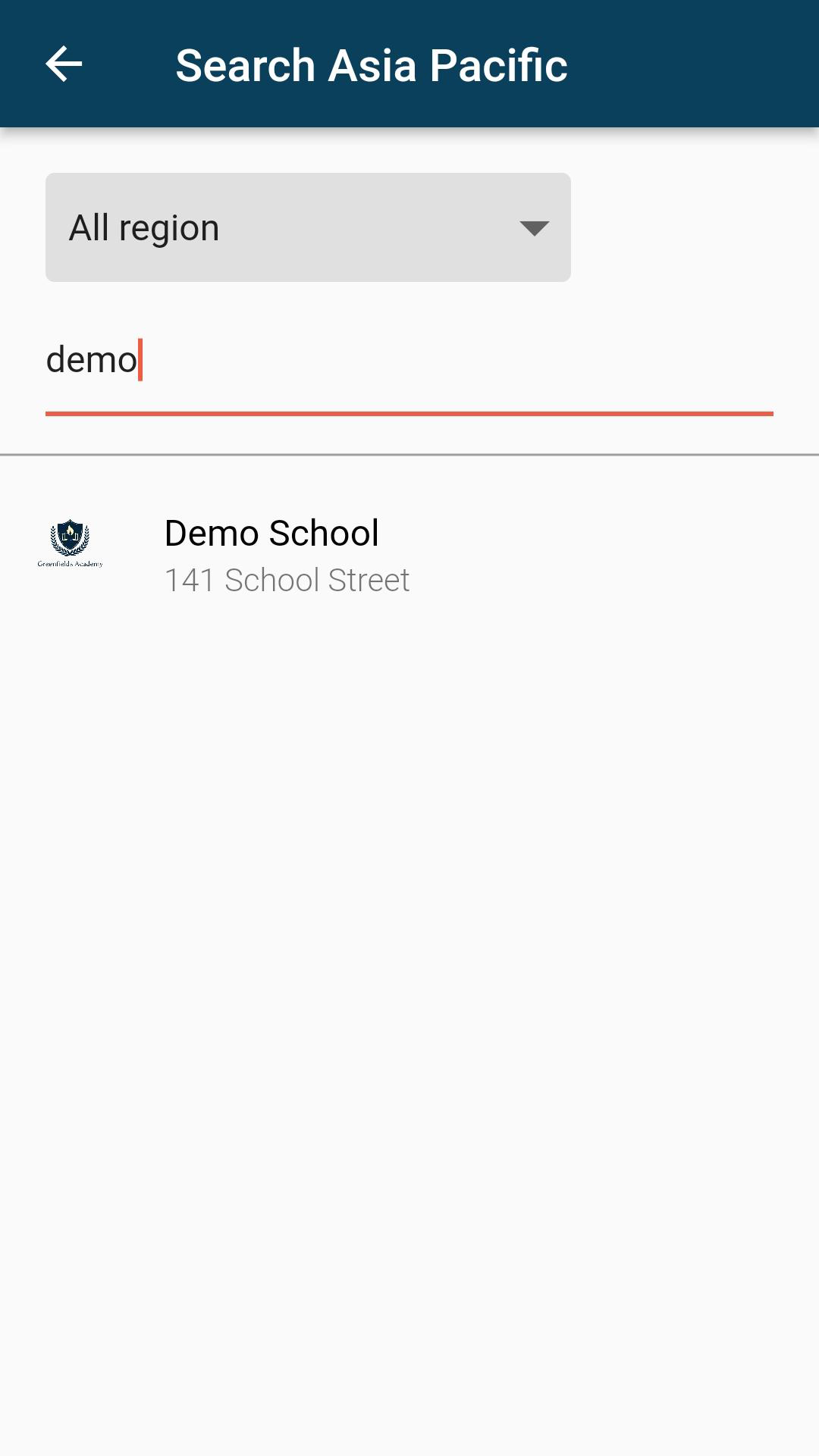 Register a User
Before you can add your school, you will need to register.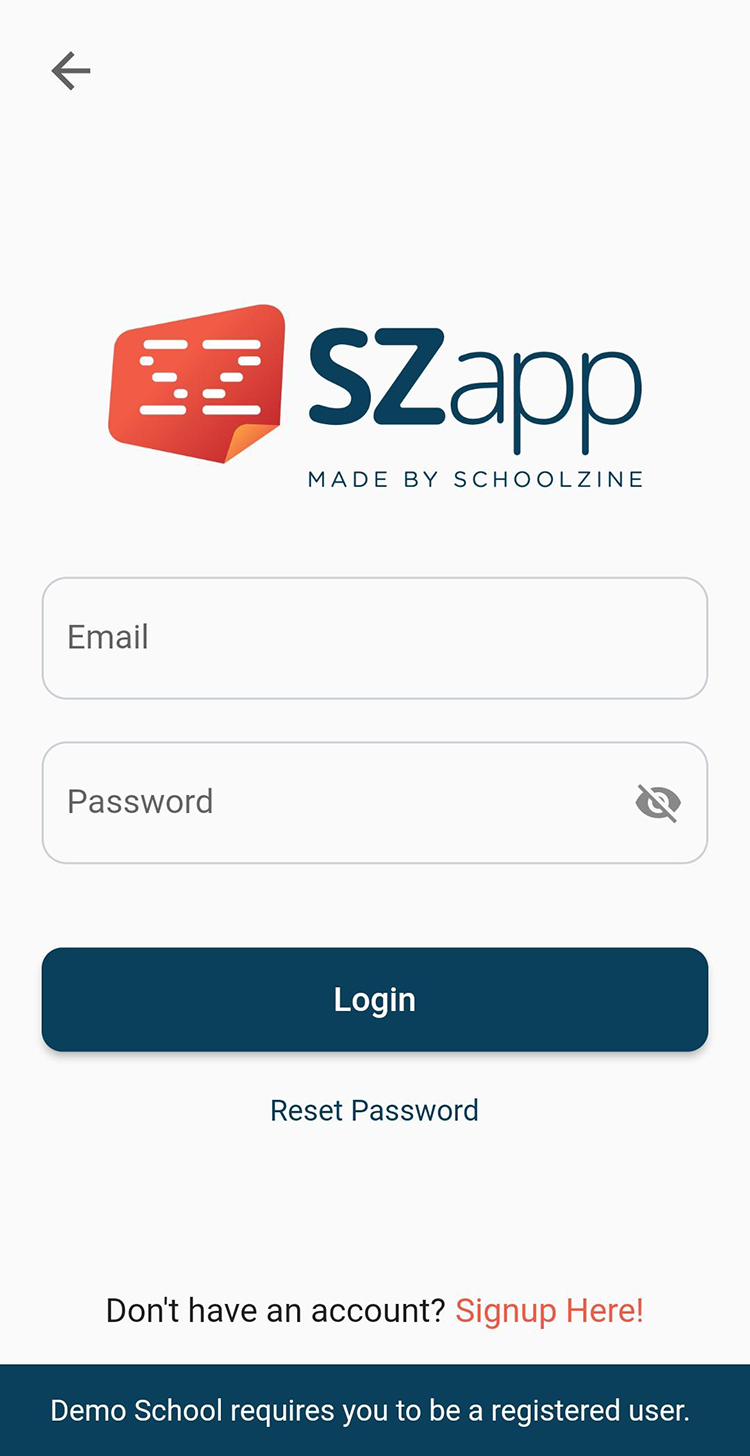 Enter your email and name.
Create your password.
Confirming your Email Address
Once registered you will be sent an email to confirm your email address. Open your mail program and click/tap the URL to confirm.
Upon completion, you will then be shown a confirmation screen.
Allowing Permissions
Upon installation of the update, you will be asked to allow access to storage on your device. This is required to ensure that SZapp can access the necessary files to store crucial data on your device.
Please click the affirmative options on each pop-up.
Note: The pop-up message you see may differ depending on your device.
Managing Notifications
Choose which group/s you would like to receive notifications from.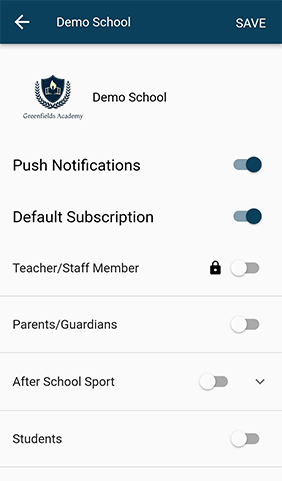 Groups with arrows indicate that there are sub-groups which you can join.
Home
The Home tab displays the most recent news item and links to important school information and tools.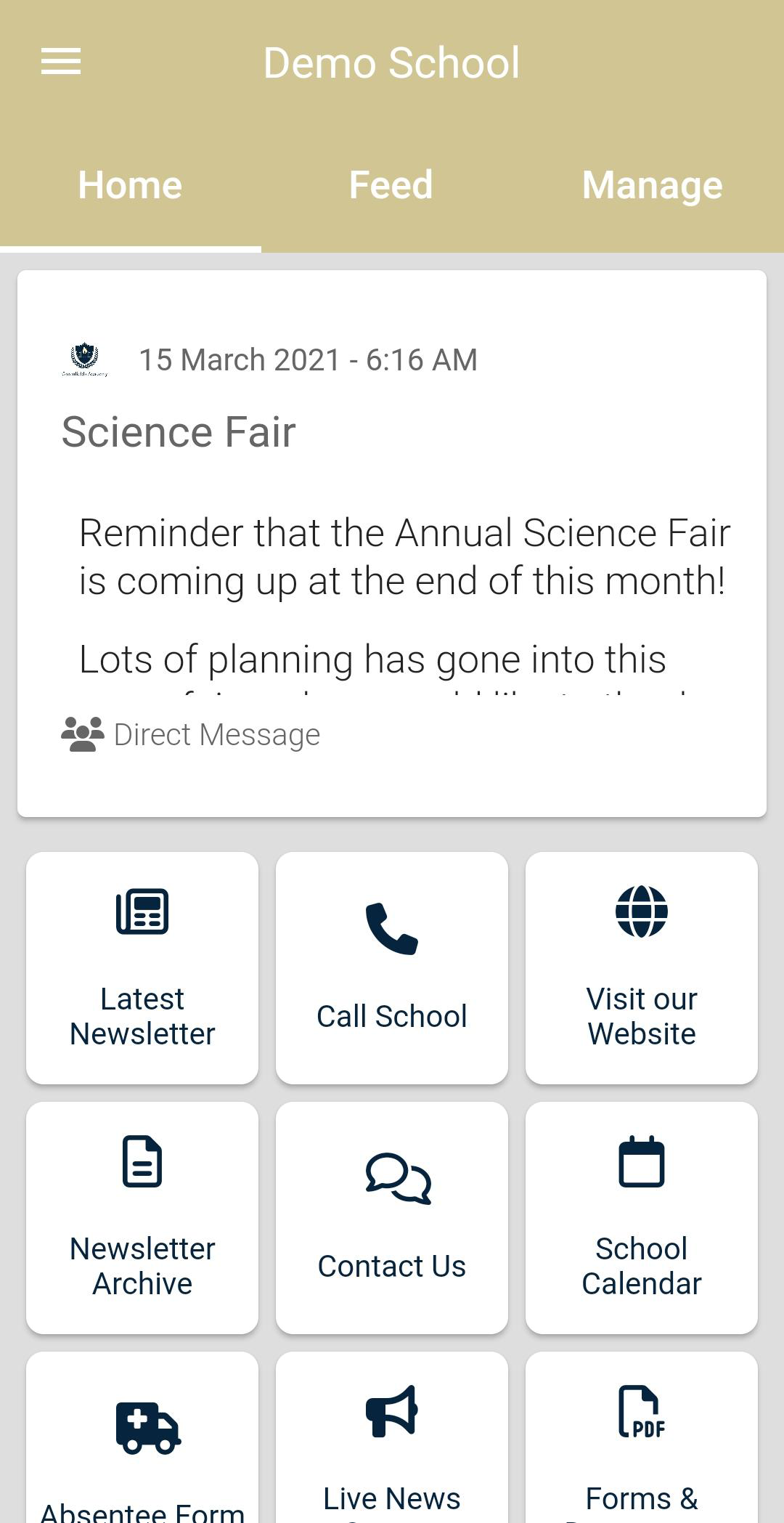 Feed
The Feed tab shows a summary view of all news items which you have subscribed to.
Manage
The Manage tab allows you to customise what information shows in your news feed and what push notifications you will receive.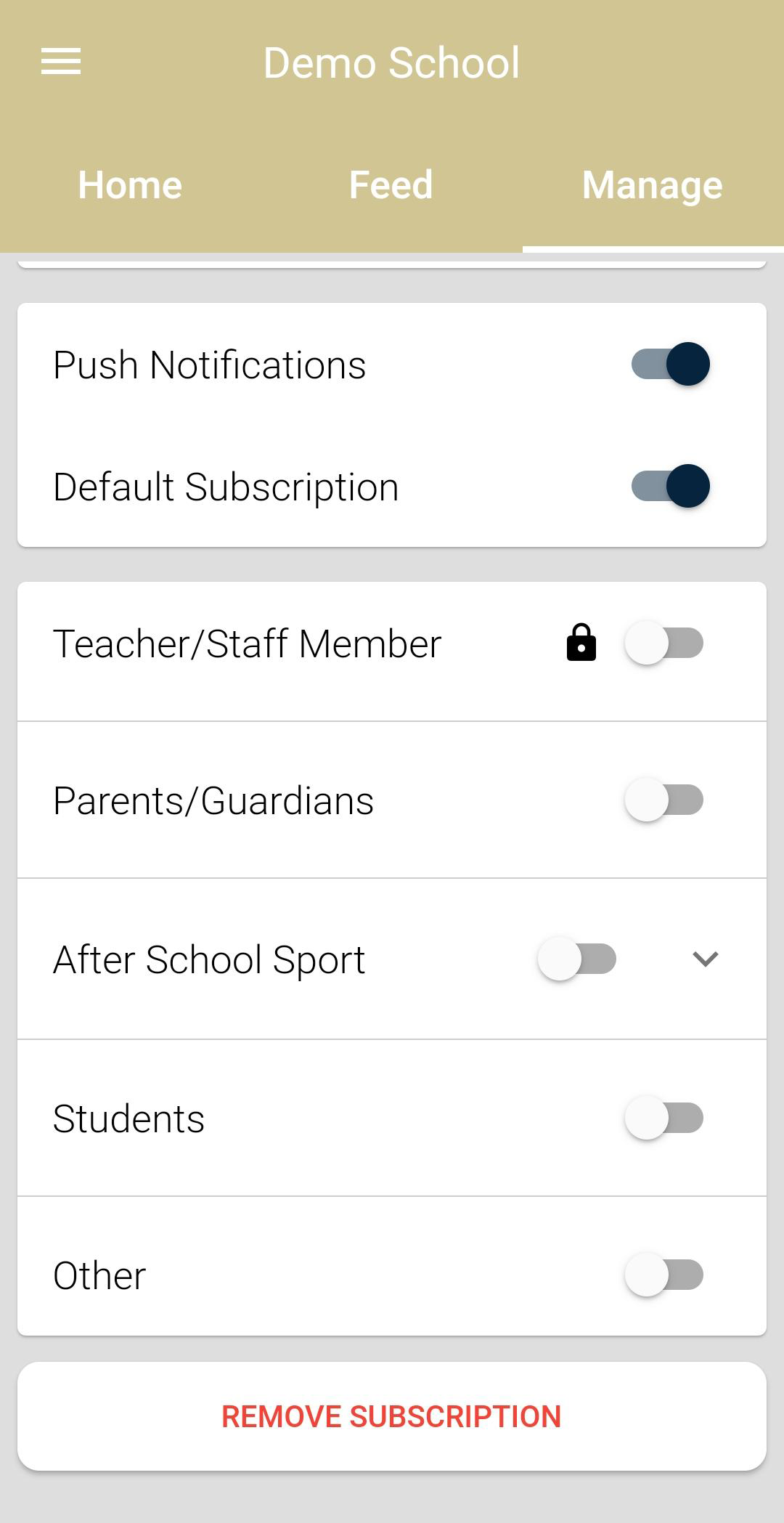 For more information please view our FAQs